Utility Companies Need to Apply Long-Term Fire Retardant To Protect Their Assets
Apply fire retardant today at your property without the hassle
Wildfires are Costing Utility Companies Billions of Dollars in Liability and Damages
Six of the ten most damaging fires in California's history have occurred in the last year and a half. Many variables contributed to the severity and scope of the damage, which resulted in the destruction of nearly 30,000 structures in just six fires. Over the last few decades, the number of people living in fire-prone areas where municipalities meet nature has risen substantially. Due to more extreme weather occurrences and poor forest management, the amount of potential fuel in California's woods has also increased.
The 2018 Camp Fire in Paradise, which destroyed almost 19,000 structures and killed 86 people, was started by Pacific Gas and Electric (PG&E) equipment, according to investigations by the California Department of Forestry and Fire Protection (CalFire). According to PG&E, the company might be liable for up to $15 billion in damages as a result of the incident. The company estimates that it will be hit with a charge of more than $6 billion this year alone to cover the costs of deadly fires in 2017 and 2018, more stringent electrical equipment inspections, and customer credits for recent blackouts aimed to avoid new blazes.
According to a filing with regulators, PG&E also logged a $2.5 billion settlement with insurance carriers for the 2017 and 2018 wildfires, bringing its total charges for the disasters during those years to $20 billion.
Another utility company giant, Southern California Edison has agreed to pay $2.2 billion in insurance claims related to a wildfire that was started by its equipment in 2018.
An Once of Prevention is Worth a Pound of Suppression When Fighting Fires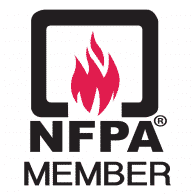 We utilize the same Fire Retardants used to fight wildfires as the ones dropped in the Fire Department's airplanes (without the red dye). This gold standard fire retardant is safe and effective to apply to vegetation. We can apply this onto your assets and the surrounding vegetation to limit your liability.
We assess the defensible space, combustibles around the property (ignition zone), fences, building shape, walls, roofs, roof vents, assets & hazards. With our fire marshals, we conduct the the risk assessment with their expertise to provide you with the best plan of action.
With a proactive approach to fight the risk of wildfires, your business can protect their brand reputation and truly mitigate risks of liabilities. One wildfire sparked by your equipment can be the end of your brand as a utility company.
Property and Structure Hardening
The construction materials, design elements, and neighboring landscaping all play a role in the risk of potential wildfires spreading. Properties that are constructed and built to wildfire-resistant standards are less vulnerable to wildfires and are more likely to survive one. The  Ignition Zone includes a component called structure hardening. In the case for Utility Companies, there are also measures to take to mitigate risks of your equipment starting a wildfire, or being wiped out by a wildfire from neighboring landscapes.
Why Should You Apply Fire Retardant Today
We work directly with Perimeter solutions and available to be your local vendor to assist you with all wildfire prevention solutions. Call us to see where we can assist your utility company in the fight against a never-ending battle against mother natures wildfires.
Frequently Asked Questions
How long does the Fire Retardant last?
The Long Term Fire Retardant (LTR) will last throughout the rain season but generally half an inch of heavy rain is the standard of our retardant. This will need to be reapplied regularly for optimal use.
Is the Fire Retardant safe for humans, animals, equipment and vegetation?
Yes! The LTR is non-hazardous and poses no risk to humans, vegetation or animals. The equipment itself will vary and determined upon inspection.
Where do you spray the Fire Retardant?
Depending on your property, generally we want to spray the first 0-30 feet (the intermediate zone) of the property and any electrical hazard equipment's like power poles, power lines etc. With larger properties with a lot of vegetation, we recommend vegetation management and additional application of fire retardants up to 100 feet of the property.
Why is the Fire Retardant not pink like the ones dropped off airplanes?
The fire retardant we utilize is Phos Chek, which is the same ones dropped off the airplanes without the pink dye. The pink dye is for the fire fighting teams to see and locate which areas have fire retardants applied. If it was clear, the fire team will have a hard time distinguishing which areas have fire retardants applied. 
Do you spray Fire Retardant onto the property itself?
We spray within the first 5 feet of the main property onto any vegetation that may pose a threat. The property itself should be built with fire resistant material and other hardening solutions like ember proof vent guards and gutter guards. We conduct a risk assessment to provide you with the best plan of action all around.
What is defensible space?
Defensible space is a buffer between your property, equipment, assets and the vegetation that surrounds it. This helps to slow or stop the spread of wildfire and provides firefighters a safe area to defend your assets.
Schedule your Inspection and Protect Your Assets