Wildfire Protection Services
Get professional property and home hardening defense.
No-hassle property and home hardening service for creating a defensible space with professional contractors.
Reduce Wildfire Risks up to 75%
Small changes to your home can reduce wildfire risk by up to 40%, and structural and vegetation improvements combined can lower wildfire risk by up to 75%. Furthermore, losses prevented can be much bigger (e.g. 5 times greater) when compared to a highly flammable environment. Some examples of home hardening solutions that will prevent your home from burning from the inside out is ember resistant vents. A lot of the times, the exterior build of the house is fire-resistant, like stucco, but the embers fly through the vents and causes the home to burn from the inside out. A simple addition of ember resistant vents significantly improves the chances of your home surviving the wildfires. 
A combination of home hardening solutions, application of long-term fire retardant and reduction of fuel through vegetation management is the key to reducing wildfire risks at your property. Our team of experts can conduct a risk assessment to ensure your property is held at the highest standard from CALFire and the NFPA.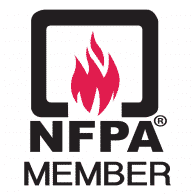 We assess the defensible space, combustibles around a home (home ignition zone), fences, decks, building shape, walls, roofs, roof vents, eaves & overhangs.
Home hardening solutions such as ember gutter guards, fire-resistant vents and double pane window glass prevents your home from catching fire through embers slipping through to the interior of the home. 
We utilize the same Fire Retardants used to fight wildfires as the ones dropped in the Fire Department's airplanes (without the red dye). This gold standard fire retardant is safe and effective to apply to vegetation.
Did you know most fires are started by embers miles away from the wildfire?
When wildfire threatens, most homes are ignited by wildfire embers carried by the wind from miles away, collecting at the base of your home's walls, igniting vegetation and mulch, landing on your roof and gutters, or blown into openings of the home like vents. Once the embers get into the vents, there is a high chance of materials to combust in your attic or crawl space, igniting the home from the inside out.
Our team of experts are ready to conduct a Wildfire Prepared Home risk assessment and mitigate your home to ensure your property is held to the highest standard from IBHS. This is your pathway to better protection against wildfire.
Vulnerable to embers
casting into vents
(replace with ember-resistant vents)
Vulnerable to embers casting into vents,
especially from vegetation below.
Vegetation too close to home.
(0-5 feet clearance needed)
Vegetation too close to home.
(0-5 feet clearance needed)
Application of fire retardant
or removal of vegetation
Hover over the vulnerable areas to see how our expertise can help prevent your home from igniting.
Creating an Ember Free Zone
Our ember-free zones surround your property with a 5ft ember-resistant barrier. This is one of the most important zones to defend, according to the IBHS, because it decreases the ability of windblown trash and floating embers to smolder and reignite on the side of your house.
We use decomposed granite, drought resistant species of plants, and other non combustible material to build this zone as per IBHS standards.
5-100 Foot Landscaped Defensible Space
The most easy technique to protect big land parcels from fire is to create defensible space. This activity is recommended for landowners with vegetation density greater than 50% in their 5-30 ft or 30-100 ft zones.
Our defensible space projects are all done to the standard of CA PRC 4291 as a certifiable guideline to make sure the work is done correctly to secure your property.
Ember Resistant Vent Installation
According to the IBHS, ember-resistant vents are the core of any home's wildfire protection. Any home in a moderate or high fire risk zone that has not had its vents modified to ember resistant vents should do so immediately.
All of our vents pass ASTM E2957 / E2957M certifications and are heavily lab tested to protect homes from wildfire.
Ember Resistant Gutter Guard Installation
Gutter Guards can keep leaves and kindling from becoming fuel sources near your home's most vulnerable parts, such as the roof and eaves. Gutter guards are an important aspect in determining whether or not a structure will survive a wildfire.
We use the highest quality vendors and installers, all of our gutter guards are pass ASTM E2886 / E2886M certifications.
Driveway Ingress / Egress Clearance and Maintenance
If a fire breaks out near your home, make sure your driveway and road access are free so that firefighting crews can reach to your home promptly. This solution is recommended for homes with driveways that are impeded by overhanging plants in high-fire-risk locations.
This treatment is done to the standard of CA PRC 4291 as a certifiable guideline to make sure the work is done correctly to secure your property.
Deck and Porch Fireproofing and Fire-Retardant Coating
Near the main structure, decks and porches are important fire risk locations that must be controlled, maintained, and protected. We may refit decks with non-flammable patterns and treat them with an intumescent paint or stain, which is a fire retardant coating that stops a fire from spreading.
Our porch wildfire defense work is all done to the minimum of SFM Standard 12-7A-5.
Fire Resistant Roof Renovation
A non-combustible roof is an important aspect of wildfire protection. Fortunately, non-combustible roofing is already placed on most properties on the west coast. If you need assistance, we can assist you in judging and resolving this situation.
Our roofing rework is all done to ASTM E108 – 20a standards as is considered non-combustible.
If high-risk homeowners want to go above and beyond to ensure their home's safety after all of the initial and basic work has been completed, we propose replacing single-paned windows with double or triple-paned windows.
Our window retrofit recommendations all pass minimum SFM 12-7A-2 standards and are rated for fire.
Phos Chek Wildland Perimeter Fireproofing
Signing up for a regular flame retardant gel application called "Phos Chek" can help large-scale property owners go the extra mile in securing their property and grounds. For the next two months after treatment, it significantly inhibits the ability of fire to spread on any treated property.
This is a safe material certified by the US forestry service as non-toxic to local plant, mammal, and fish life in the area.
Construction Services provided by Allied Restoration
We have a strategic partnership with Allied Restoration (CSLB 908870) to provide any and all general contracting services, construction services, etc. 
This allows you to have a one-stop shop for all your restoration and building needs on top of prevention. 
As a final resort, some big estate owners (particularly those with long travel distances from local fire services) seek to build their own home sprinkler systems.
These are large projects, but we have several effective options available upon request via the property owner. All our sprinkler vendors are certified to the standards of NFPA 13, Section 8.15.7 CFC 2016 Chapter 9
Schedule your inspection and let Allied handle your wildfire defense